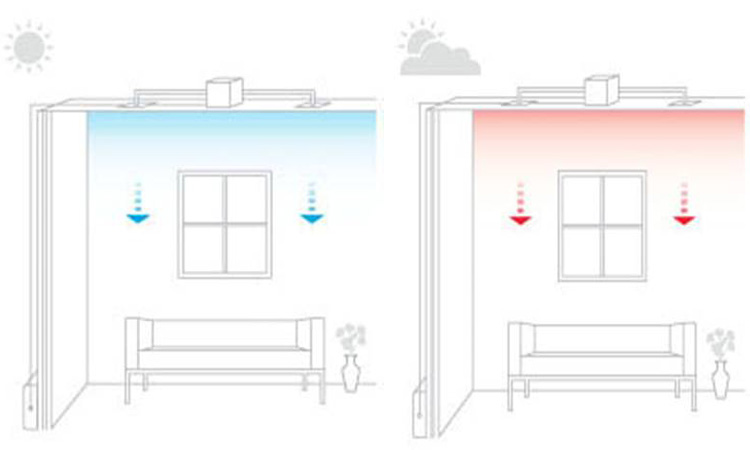 About Invertor Technology

Invertor type air conditioners are much more efficient in the
consumption of electricity compared to the non-invertors.

Non invertor air conditioners stops fully when the set
temperature in the remote controller is reached.

It starts again from scratch when a difference in the set
temperature is sensed by the thermostat inside the room.

While starting, it goes from zero to full speed in one go.

This is where it consumes a lot of power.

Think about stopping and starting again once in half an hour in
an eight hour cycle.

Whereas, invertors never stops and it really slows down to its
lowest level in speed, and waits for a difference in temperature
to be sensed by the thermostat.

It ramps up slowly to the full speed thereby not consuming too
much power for the efficient output in cooling or heating.

Also the noise level of the outdoor unit is lower when compared
to the non-invertor motors, thereby neighbour friendly.
Air conditioning & Water Heaters

All Stars Air conditioning Services Started Humbly as a Home Office
ten years ago and registered as a pty.ltd Company in 2009.


From 2015 it has it's own Showroom/Warehouse at 10/47, Third
Avenue, Blacktown for Sales and display of Airconditioning
Systems for your home air conditioning needs and commercial
air conditioning requirements.


We have installed more than a couple of thousand Split System
Air conditioners and three to four hundred Ducted System
Air conditioners.


We have been serving Sydney and Western Suburbs with supply
and installation of Split system Airconditioners and Ducted Systems
Air conditioners for more than 6 years.


We can Supply, Install and repair Daikin, Fujitsu, Carrier, Toshiba
and Actron Air Split Air conditioning Systems and Ducted
Air conditioning Systems.


All Stars air conditioning services is one of the warranty Repair
Agents for Toshiba, Carrier Split System Air conditioning and
Ducted System Air conditioning Units.


We are the warranty Service Repair Agents for Quantum Hotwater
Heat pumps all over Sydney.


We Supply and Install Quantum Hotwater Heat pumps at a
competitive Price.


Government Rebate is applicable to all Models of Quantum
Hotwater Systems. Please Call us on 02 9920 4377 for Details.


All Stars air conditioning has different dedicated teams working for Air
conditioning Systems and Hotwater Systems.


We are Licenced Air condition Installers and
Licenced Plumbers.